Opera started out as a research project in Norway's largest telecom company, Telenor, in 1994, and branched out into an independent development company named Opera Software ASA in 1995. Opera Software develops the Opera Web browser, a high-quality, multi-platform product for a wide range of platforms, operating systems and embedded Internet products. Opera is known as the fastest and smallest full-featured browser, a first choice for people using older PCs and Windows 95 and a brilliant alternative to the default IE from Microsoft. Opera will work even on 386 computer about 6 MB of operative memory. MDI the interface. You can open without special expenses of memory any quantity of windows inside one working window, having chosen thus a tabulared or cascade mode. Opera delivers world-class solutions to operators and manufacturers worldwide. Choosing Opera Powered for your products and services means you will be rewarded by a faster time to market, Opera's proven reliability.

Homepage - http://www.opera.com
Link International: 6.3 МB
http://ftp.opera.com/pub/opera/win/923/int/Opera_9.23_International_Setup.exe

Link for All Platforms:
http://www.opera.com/download/index.dml
Mozilla Firefox 2.0.0.9 Fina
l
Mozilla Firefox
- faster, more secure, easier to use and sporting a new look, this latest Firefox release sets a new standard for web browser innovation. Mozilla Firefox project (formerly Firebird, which was formerly Phoenix) is a redesign of Mozilla's browser component, written using the XUL user interface language and designed to be cross-platform. It is small, fast and easy to use, and offers many advantages over other web browsers, such as the tabbed browsing and the ability to block pop-up windows.
Features in Firefox include:
- Easy migration: Switching to Firefox has never been easier now that Firefox imports data like Favorites, history, settings, cookies and passwords from Internet Explorer. Firefox can also import settings from Mozilla 1.x, Netscape and Opera.
- New Default Theme: A new default theme provides a bright new look for Windows and Linux users.
- SmartUpdate: A new SmartUpdate feature notifies users of new versions of Firefox to ensure that the browser is always up to date.
- Help: A new online help system makes this one powerful, friendly browser.
- Popup Blocking: Stop annoying popup ads in their tracks with Firefox's built in popup blocker.
- Tabbed Browsing: View more than one web page in a single window with this time saving feature.
- Smarter Search: Google Search is built right into the toolbar, and there are a plethora of other search tools including Keywords (type "dict " in the Location Bar)
- Privacy and Security: Built with your Security in mind, Firefox keeps your computer safe from malicious spyware by not loading harmful ActiveX controls.
- Hassle-Free Downloading: Files you download are automatically saved to your Desktop so they're easy to find. Fewer prompts mean files download quicker.
- Setup's a Snap: At only 4.7MB (Windows), Firefox only takes minutes to download over a fast connection.
- Read Mail—Not Spam
Download for Windows:
5.7 МB
http://releases.mozilla.org/pub/mozilla.org/firefox/releases/2.0.0.9/win32/en-US/Firefox%20Setup%202.0.0.9.exe
Download for Linux:
9.2 МB
http://releases.mozilla.org/pub/mozilla.org/firefox/releases/2.0.0.9/linux-i686/en-US/firefox-2.0.0.9.tar.gz
Download for MacOS:
17.08 MB
http://releases.mozilla.org/pub/mozilla.org/firefox/releases/2.0.0.9/mac/en-US/Firefox%202.0.0.9.dmg
Internet Explorer 7.0.5730.11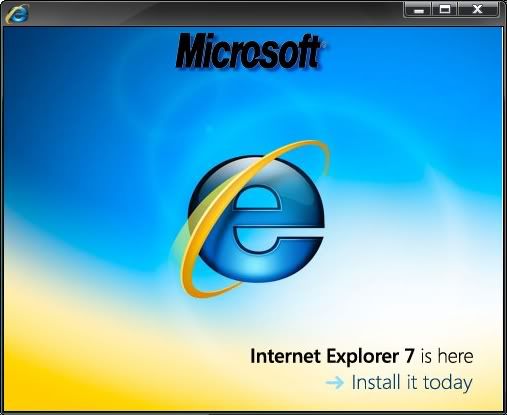 Internet Explorer 7.0.5730.11
This is a tweaked version of Internet Explorer 7 Made for NON genuine Windows User.
It installs without any activation or validation
Size= 16.2 MB
Download
http://w15.easy-share.com/10066541.html